OUR MISSION AND OUR STORY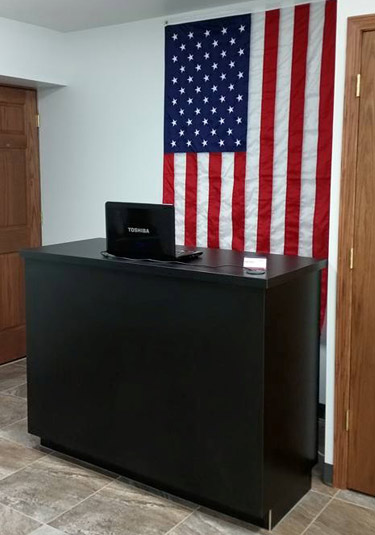 The mission of Patriot Auto Repair is to provide quality repair of vehicles while earning and keeping the trust of our customers. Patriot Auto Repair opened for business on June 29, 2015. Patriot Auto Repair may seem like the new kid on the block, but we bring a plethora of knowledge and experience. Jim Pinsonneault, owner and technician, has been a technician for 15 years. He was a technician in the United States Marine Corps, graduated from the ASEP program at Fox Valley Technical College, is ASE master certified, has GM world class technician status, and has experience working in an automotive repair facility. He has a passion for not only diagnosing and fixing vehicles, but also educating his customers on the repair that was preformed and why.
What makes us different from all the other repair facilities in town? We strive to provide excellent service both on the repair side and customer side. Our customers are the most important part of our business and we want them to feel engaged, respected, cared for and listened to. We follow up with our customers after their vehicle has left our facility to make sure their concerns were addressed and fixed properly. Bottom line, we want to earn the trust of our customers and keep their trust.
Patriot Auto Repair is blessed to be part of an amazing community and we feel it's important to give back. Whether it's volunteering at a community event or donating services to a charity, we hope to give back to a community that has been an important part of our lives. Part of giving back means serving those who serve. A discount is given to all veterans, active duty military, law enforcement, and firefighters. They are our local heroes and deserve a big thank you for putting their lives on the line for us.
---
TESTIMONIALS
Fantastic customer service, knowledgeable staff and excellent advice, this is THE place to take your vehicles for service or repair.

This morning my car won't start. I called four companies and this is the only one that is willing to send a machinist to help me jump start. Great service!

Amazing service at a very fair price! I'm just visiting home from out of state, but I wish I could give Jim my full time business. He was very knowledgeable and transparent with what was done and why.

Wonderful place! Fast service, amazing staff and a genuine love for community!.

Jim has done so much for myself and my family. He has worked on my SUV several times and I get it back happy and for a good price. He works fast and charges a fair price.

We are returning customers. They do a great job and they stand by their work. My wife and I really trust their assessment and their ability to get the job done right the first time. We highly recommend this garage.

Weston has a lot of great mechanics, but I started bringing my business to Patriot Auto when I learned more about the service Jim does for veterans and public safety professionals!